ALBUMS

LIZ MITCHELL SINGS THE HITS OF BONEY M (2005)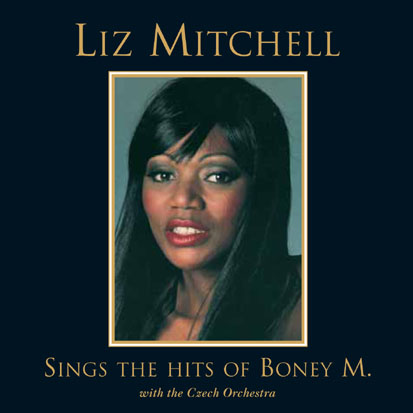 (CD Dove House Records Ltd. / Popron Music 547232) (2005)


1.No Woman No Cry (3:38)
(Marley / Ford)

2.Mary's Boy Child (3:15)
(Farian / Hairston / Jay / Lorin)

3.Heart Of Gold (3:28)
(Neil Young)

4.Mandela (4:13)
(Blum / Farian / Jay / Mitchell)

5.Brown Girl In The Ring (3:18)
(Farian)

6.Still I'm Sad (5:04)
(Smith / McCarthy)

7.Sunny (3:49)
(Hebb)

8.Ribbons Of Blue (4:34)
(Keith Forsey)

9.Want You To Sleep (Chtíc Aby Spal) (3:53)
(Hrdinka / Skalka)

10.Somewhere In The World (4:27)
(Wolfgang Keilhauer / Tammy Grohé / Sandy Davis)

11.Where Did You Go (3:58)
(D. Kawohl / P. Bischof - Fallenstein)
12.Time To Remember (4:19)
(F. Farian / D. Kawohl / P. Bischof - Fallenstein)

13.Somewhere (from West Side Story) (3:42)
(Bernstein / Sondheim)

14.Rivers Of Babylon (4:09)

(Dowe / McNaughton / Farian / Reyam)

BONUS

15.Let It Be (4:06)
(Lennon / McCartney)


Produced by : Thomas Pemberton Robert Pokert & Liz Mitchell

Co-produced by : Martin Hrdinka

Arrangements : Lobir Capek

Lead vocals : Liz Mitchell

Backing vocals : Liz Mitchell, Daniela Sinkorová, Katerina Nováková, Roman Vojtek, Hynek Scrcek, Marcel Sviddrman, Jan Urban

Recorded at : Kiwi a Proffesional Sound, Prague 2003 - 2005

Mastered by : Oldrich Slezák, ADK, Prague, 2005


NOTE:
On this album Liz Mitchell pays tribute to some of the greatest songs of the group that made her famous. But this aren't simply re-recordings of the old hits; all the songs are recorded with the Czech Orchestra in new arrangements.
Everybody knows Boney M.'s hits and the characteristic voice of lead singer Liz Mitchell belonging to them. Finally a CD is released where this member of the legendary group sings, among others, unforgettable hits of Boney M in new unusual arrangements for a symphonic orchestra. It's interesting to mention that almost the whole album has been recorded and mixed in the Czech Republic and the producers Thomas Pemberton, Robert Porkert together with co-producer Martin Hrdinka and Libor Capek (arrangements) gave the songs an interesting brand new modern form.
The album also contains 2 brandnew tracks, which aren't Boney M. tracks, "Want You To Sleep (Chtíc Aby Spal)" and "Somewhere" (a stunning version of the Bernstein classic from "West Side Story"). One of the biggest surprises on the album is a jazz version of Boney M.'s legendary hit "Sunny", which proves that Liz also is a great jazz performer. The title track of Liz's Inspirational album "Let It Be" is featured as a bonus track.



Liz Mitchell Boney M- Let It Be